This article aims to provide you with information about external (invited) users, and when and how the feature should be used.
What are external users?
External users are invited individually or as a Google Group / Microsoft Group to be a part of a specific Channel.
When should you invite external users?
Invitations should be used to invite people that have a Google or Microsoft account but are not part of your Google or Microsoft Organization. This means that the users should not have the same email domain as your company.
Use cases
Example use cases are external consultants, third-party companies, subsidiaries, etc. External users are a great way to give specific access to content within your Happeo to people outside of your organization.
How does inviting users work?
To add an external (invited) user you will need to be a Happeo Admin and go to:
Admin Settings
User management
Invites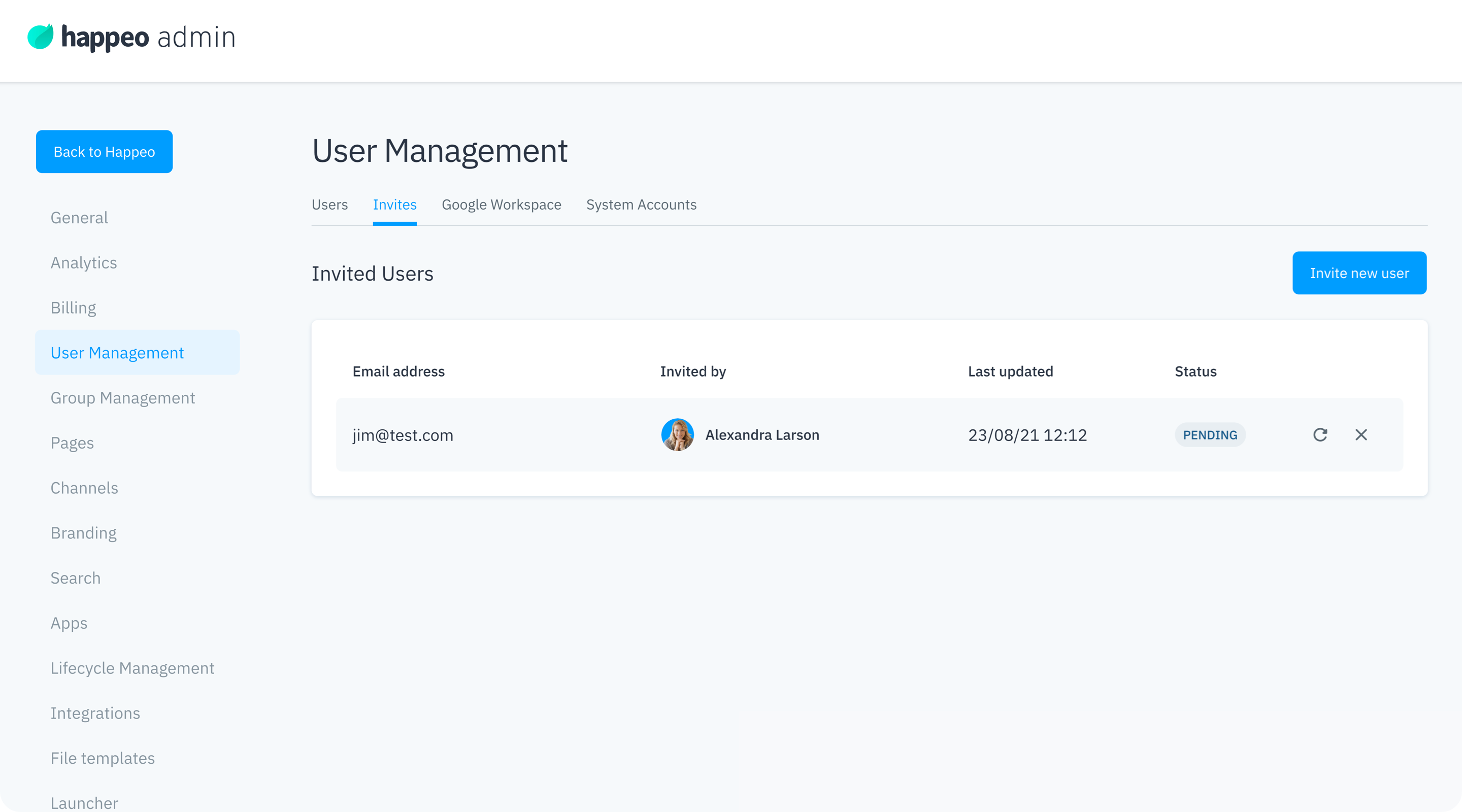 From this section, you will be able to invite users by:
Typing in their email address
Selecting their user role (user or admin)
And clicking on Invite user
You can also monitor invitations that have been sent but not accepted and resend them.
When these users are invited, they will receive an email to accept the invitation.

(Pending) invited users
When an invited user's seat is pending, they will appear in the Reserved seats in the Seats Overview.
These seats are reserved so the invited user will immediately be granted a seat upon accepting the invite, rather than having to wait for a seat to become available. Should you wish to remove a reserved seat, simply cancel the pending invite.
For more information about User Management and Seating, you can read this article.
Ways in which users can be invited to the platform
Entire platform: The invite is sent from the Admin section where the account is then treated as any other internal account
Channel: External Users are invited individually or as a Google / Microsoft Group to be a part of a specific Channel. This means they will receive access to the Channel but also to the added Google Drive / Microsoft OneDrive folder
Page group: External Users can be added to a specific Page Group via a Google / Microsoft Group