This article outlines how to create a custom URL.



What is it?
A unique brand name that distinguishes your Happeo is known as a Custom URL. Custom URLs are shown in the browser's address bar.
On the other hand, a custom login page is a variation of Happeo's login page that can be tailored to reflect your brand. It can also be used for seasonal themes and campaigns like International Women's Day. For more information about custom login pages, please see this article.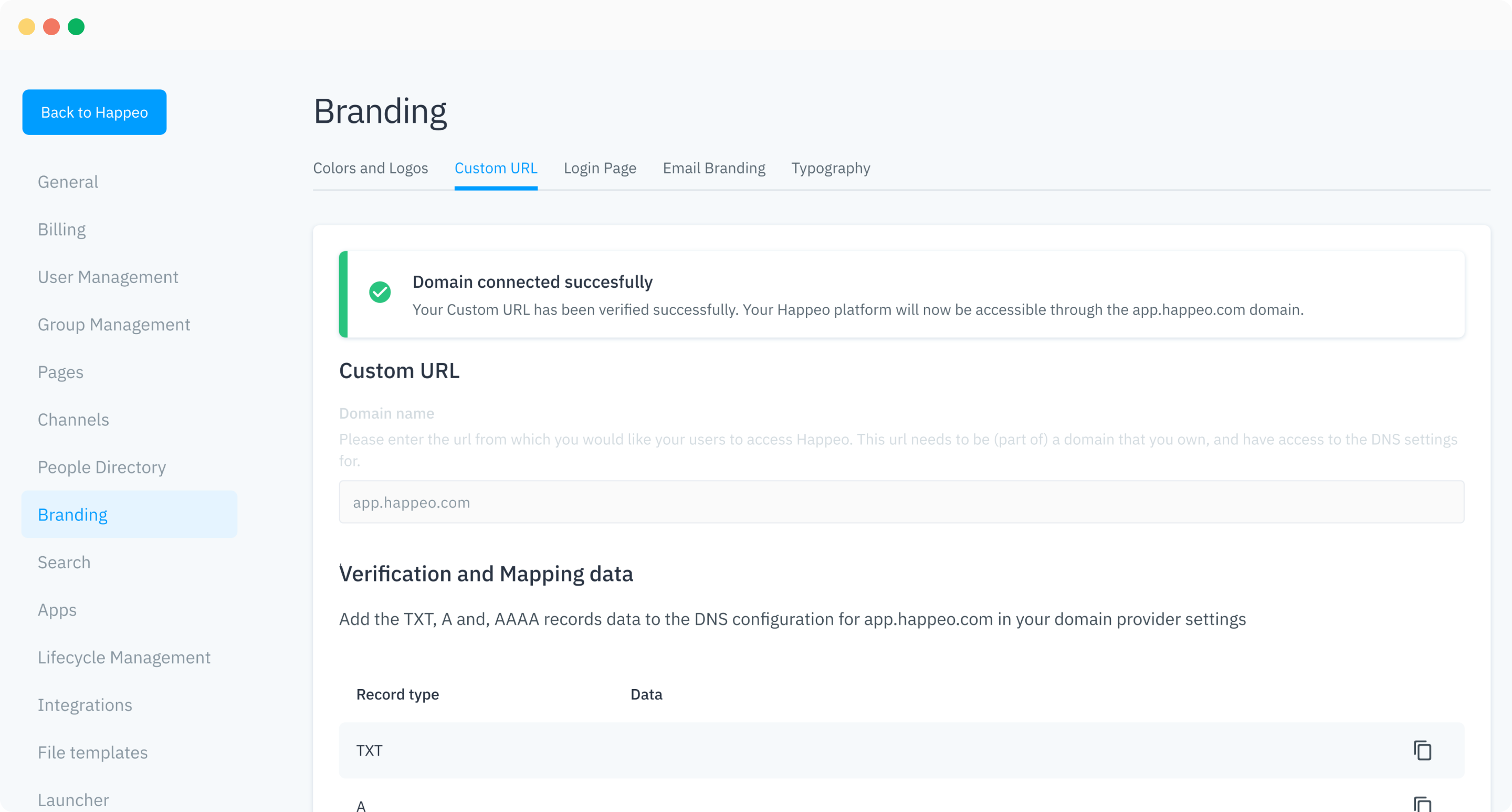 How to reserve a domain

For you to be able to use a custom domain, you will need to register the URL. After this has happened, you can move forward in this process.
To learn how to reserve a domain, please refer to this article from Hubspot.

How to create a Custom URL


To create a Custom URL, you must first and foremost be an Admin. Then:
Visit the Admin Panel by clicking your avatar and then

Admin Settings

Click

Branding

from the menu on the left

Click

Custom URL

Here, you can

type in the

custom login URL

you

reserved

to use for Happeo

To set up a Custom URL, it is advisable to have someone with adequate knowledge of domain settings and DNS configurations. Typically, this person would be from your IT department or a similar area. Before proceeding with the setup, please ensure the domain you intend to use is registered. It is worth noting that altering your domain will also change the links generated within your Happeo instance. Hence, it is recommended to establish your Custom URL before creating any content on Happeo

Click

Confirm

to enter the Custom URL

Happeo

verifies

if the domain you entered is in a

valid format

A message stating "Domain name is invalid" will appear if the format is

invalid

A domain name consists of one or more labels, each formed from the set of ASCII letters, digits, and hyphens (a-z, A-Z, 0–9, -), but not starting or ending with a hyphen. The labels are case-insensitive

Click

Continue
Next, you will be requested to complete the technical setup for the custom login URL to enable us to complete the domain mapping on the Happeo side.
After entering the Custom URL, you can find the TXT, A, and AAAA data from the list that becomes visible.

Copy this data

to the DNS configuration for the domain name you inputted in your

domain provider settings

. This typically requires your IT team or whoever has access to the domain hosting for the custom login URL to complete

Check the box to

confirm

that you have entered the data in the previous step correctly

Click

Verify Custom URL

to complete the process

Process of domain mapping

Once you have completed the process of verifying your domain, domain mapping will take place. A message stating "Domain mapping in progress" will appear.
If the domain mapping is successful, a message will be indicated in the Domain tab stating that the domain has been connected successfully.
The certificate failed to be issued

If the certificate fails to be issued within 48 hours, you may receive a message stating, "The DNS settings need to be modified to allow the COA to be issued. Updating your COA at the DNS level by Google will guide you through this process."
You will receive a link in the message where you can update your COA at the DNS level.
The domain verification failed

Another failure message includes "Domain verification failed." You may receive this error after 48 hours. The reason why you might receive this error is because:
The TXT record is not added to the DNS settings for the Custom Login URL

Confirm that the TXT record

matches

the one provided in Happeo and that the TXT is

publicly available

One tool you can use to verify the A records and TXT records are publicly available is

mxtoolbox.com

The domain verification fails when you do not input the correct TXT record in your DNS system or never add it

A bug on Happeo's end. Please contact our Support Team
Remove a domain
To remove a domain, go to:
Admin settings

Branding

Domain

Click

Remove Custom URL

Notify

our

Support Team

that the domain will be removed. Your IT team will also want to remove the A records and TXT records from your DNS settings