In this article, you can learn how to find the right person within your organization in Happeo.

Some of the ways to connect with users
Visual org chart
Up-to-date contact directory
Fully searchable profiles
User calendars
The People Directory allows your employees to browse and discover people, view contact information & availability, and connect directly.
Please make sure that your Google Workspace or Azure Directory is up-to-date and that all your groups are set up correctly, as this will allow you to get the most out of the people functional, such as the Organizational Chart.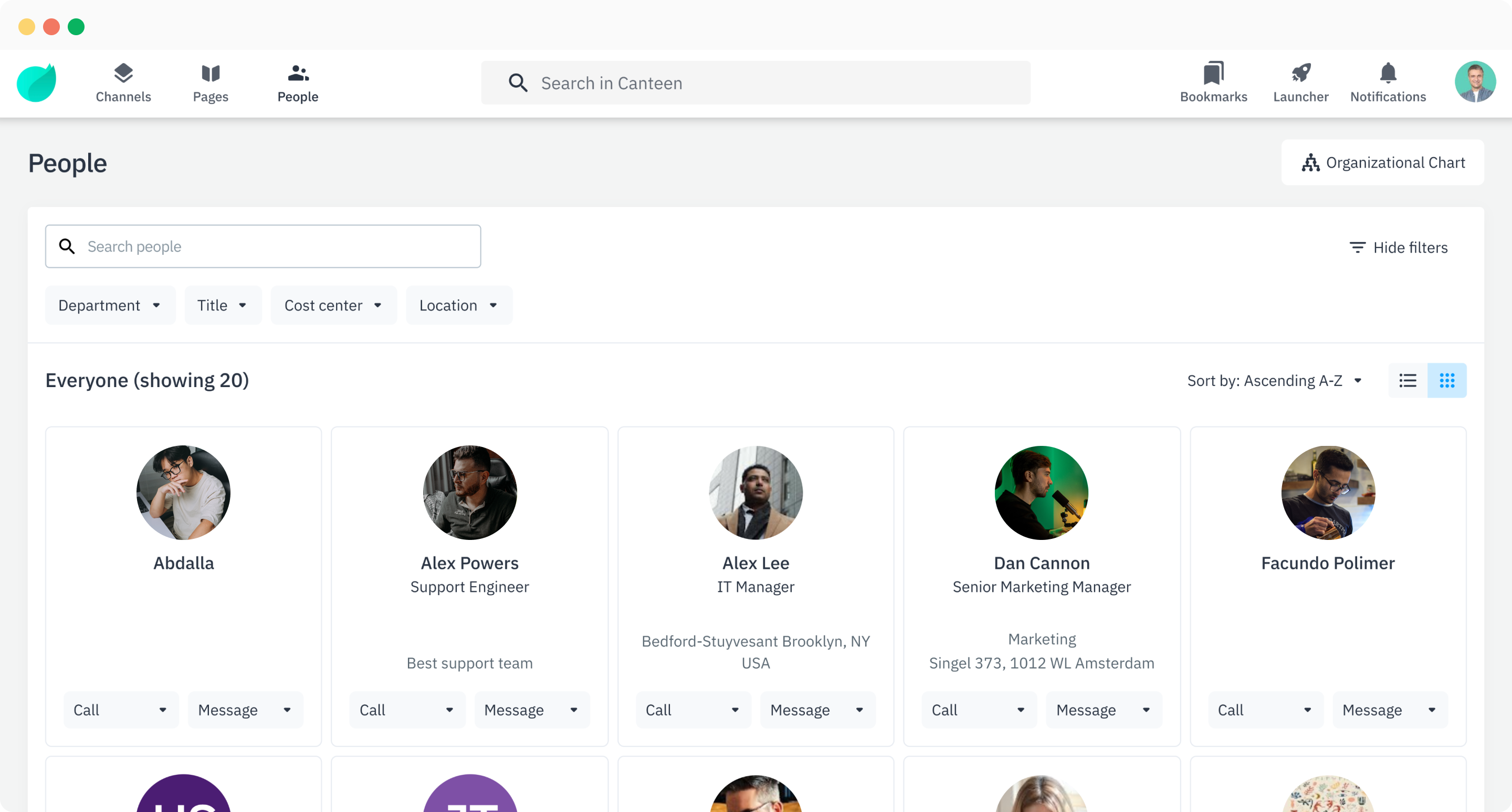 To manage the People Directory view, you can filter by:
Department

Title

Cost center

Location

Organization

You can also sort people by ascending (A-Z) or descending (Z-A).
The presentation of people can be customized either by grid or list view.
Search for people
You can search for people using the People Directory Search Bar.
You can find more information here if you want to learn more about searching for people using Happeo's main Search tool.
User Profiles
Clicking on a user will open their User Profile.
To read more about User Profiles, please see this article.
Organizational Chart
By clicking the Organizational Chart, you can find your organization's Org Chart. For more information, please see this article.
How to manage People Directory attributes

As an Admin, the default is that all People Directory attributes will show for each user from the People Directory. With that said you can:
Go to the Admin Settings (by clicking your avatar at the top right corner of the page and selecting

Admin Settings

)

Click

People Directory

and

toggle off

any skills / attributes you do not want displayed for all of the users in the People Directory

Addtionally:

You can rearrange the order that the skills / attributes appear in the People Directory by clicking

Reorder

at the top right of the page and then dragging the skills / attributes by the three dots on the left of them
The display of a Custom User Attribute in Happeo can only be managed through the Google Admin Panel, and it is not possible to control this setting from within Happeo. Therefore, if you have custom user attributes enabled and wish to make any changes, it is recommended to adjust them from the Google Admin Panel. There, you will have the ability to toggle the attributes as necessary based on your specific requirements.
Troubleshooting
Unseated and unassigned users are appearing in my People Directory / People Search

To ensure that unseated / unassigned users are not visible in Happeo's People Directory, People Search (or Org Chart), as a Google admin, you can follow any of the following steps:
You can

disable directory sharing

for each unassigned / unseated user individually through their Google admin panel. However, this approach has a downside: it also hides these users in Google, which may or may not be desired. Additionally, this process is quite manual

Alternatively, you can first

suspend

the unassigned / unseated user in Google and then

move them

to a Google Organizational Unit (OU) that is not synced or within the scope of Happeo. It is crucial to follow this specific order to avoid the need for an orphan scan

If the users are moved to an un-synced OU and then suspended, you will need to request an orphan scan

In the event that the suspension of users in the Google platform is not preferable, and there exists a requirement to prevent the visibility of specific employees or former employees within Happeo, a course of action would involve transferring them to an Organizational Unit (OU) that is unsynchronized

or lies outside the scope of Happeo's synchronization. Subsequently, it is advised to submit a support ticket to Happeo and request an orphan scan. This scan, once executed, will automatically suspend all users who no longer fall within the synchronized scope but have yet to be designated as suspended
Why can't I turn off email sending to secondary emails?
Toggling off Email only toggles off the primary email address from the visible attributes in a User Profile. Secondary emails, however, are controlled on the Google side. To toggle off secondary email addresses, please see this link.