Setting up Happeo as the Google Chrome Starting Page can be achieved through multiple methods, either individually by every user or enforced by the Google Workspace Admin for the entire domain.
Individually by every user
Setting Happeo as the Start-up page
When not enforced by the Admin for the entire domain, users have the option to set Happeo as their Start-up page in the Google Chrome Settings. This can be done by going to Google Chrome Settings > On start-up and choosing from three options:
Open the New Tab page
Continue where you left off
Open a specific page or set of pages - for example, the Happeo page and the default Google Search can be opened in separate tabs whenever Google Chrome is launched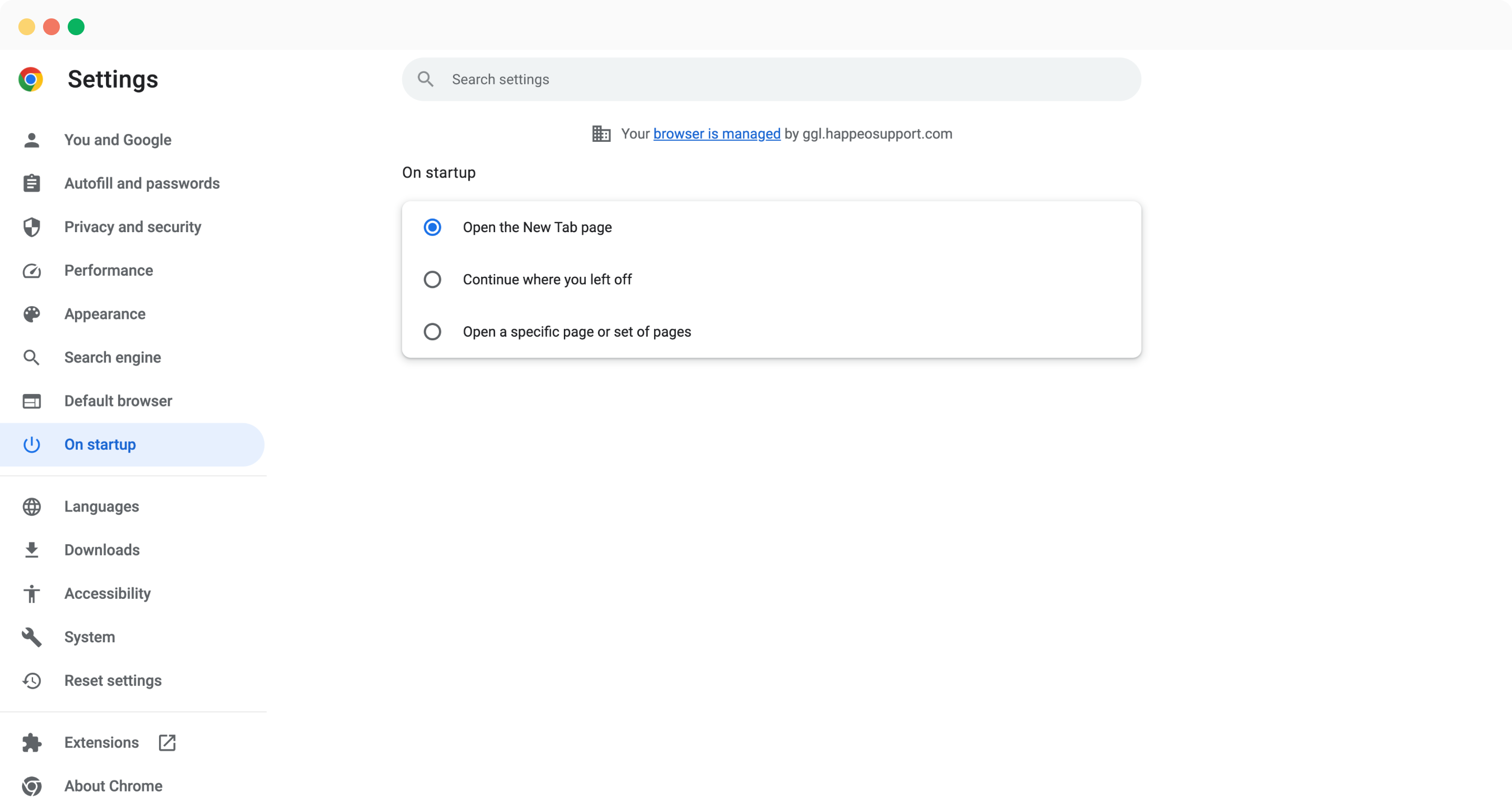 Adding Happeo as a Home button destination
Additionally, users can add Happeo as a destination for the Home button, which can be enabled through Google Chrome Settings > Appearance > Show Home button. Once enabled, users can choose either: the New Tab page or any custom page (e.g., Company website, Happeo, BBC, Eurosport, etc.) as the Home button's destination.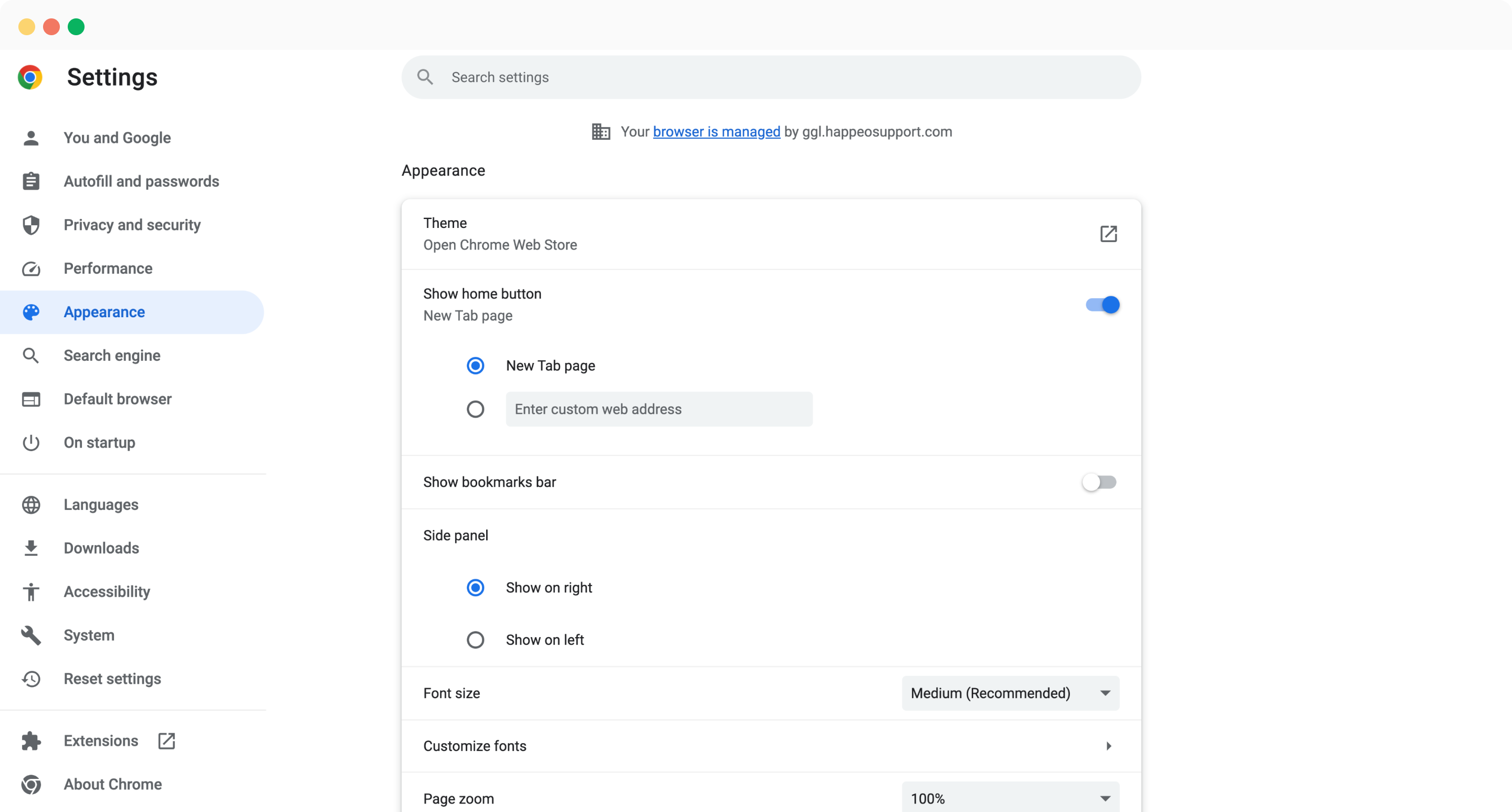 Enforced by the GW Admin
Enforced start-up
The Google Workspace Admin has the authority to enforce the start-up configuration for all users. This means they can set Happeo and other webpages to be opened whenever the Google Chrome application is launched.
To achieve this, the Google Workspace Admin should navigate to the Admin Panel > Devices > Chrome > Settings > Users & browsers > Pages to load on startup. There, various startup options are available, including:
Allowing users to decide
Opening a list of URLs
Opening a New Tab
Restoring the last session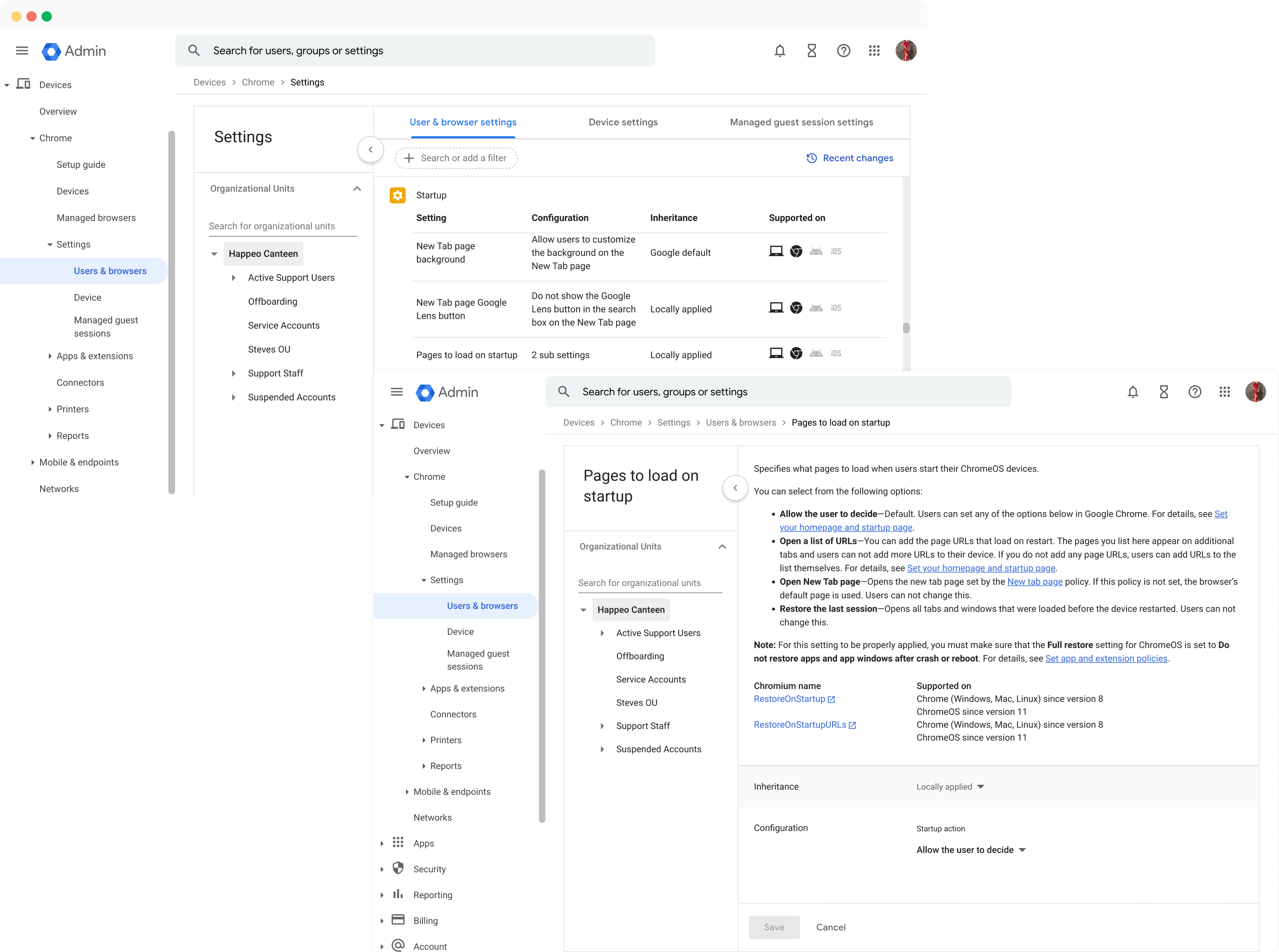 The Admin can also configure the start-up settings to apply either to individual Organizational Units or to the root Organizational Unit, which will automatically apply the configuration to all sub-organizational units of the domain.
For instance, the Admin can set the configuration for the root Organizational Unit 'Happeo Canteen,' ensuring that two tabs with the default Google Search and Happeo will open for the entire organization whenever Google Chrome is launched.
Home button enforced by the GW Admin
Similarly, the Google Workspace Admin can enforce the presence of the Home button and configure its destination. This can be done through Admin Panel > Devices > Chrome > Settings > Users & browsers > Home button, where the Admin can choose from three options:
Allow the user to decide
Always show the "Home" button
Never show the "Home" button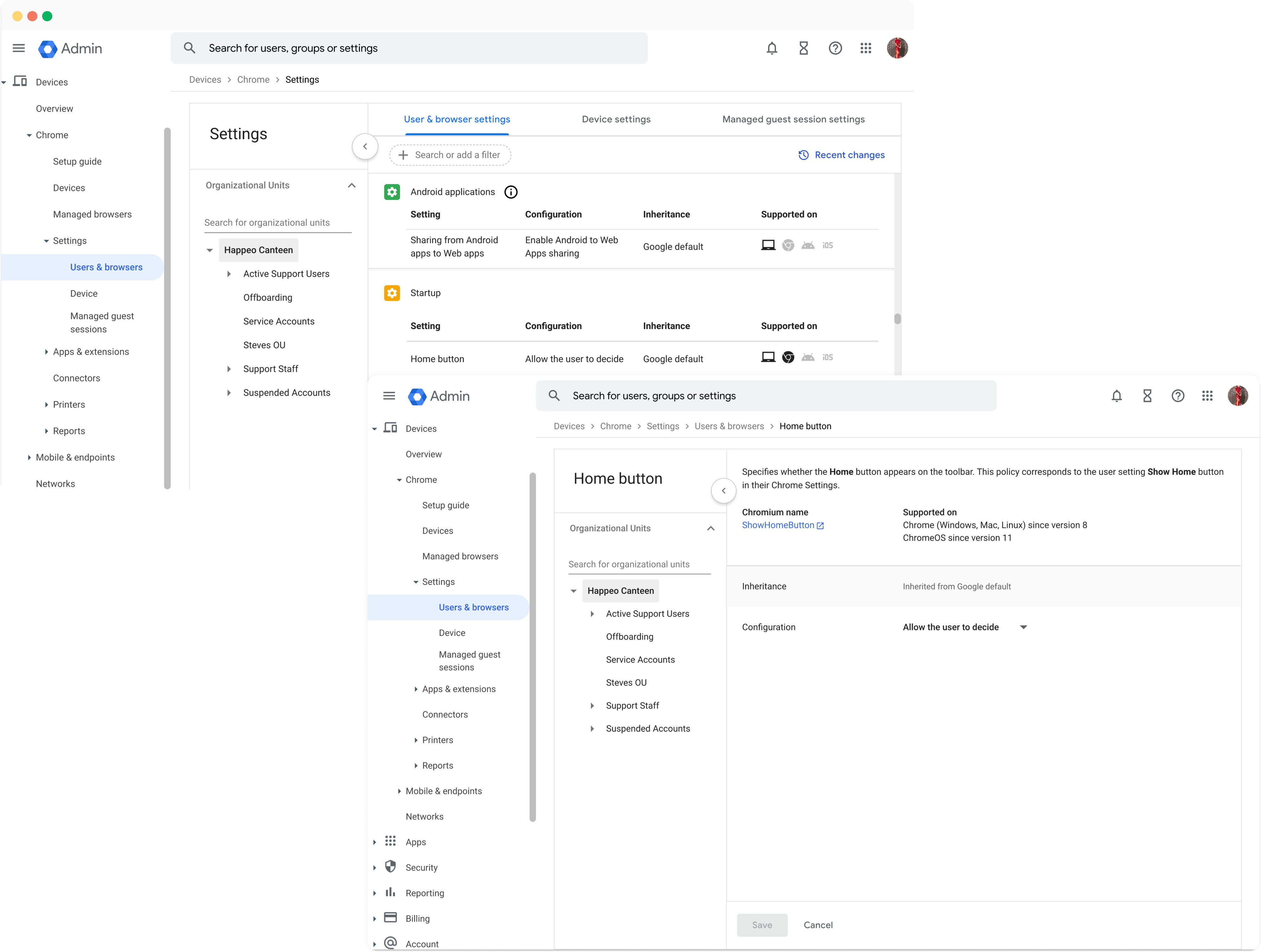 Furthermore, the Admin can set the destination page of the Home button by going to Admin Panel > Devices > Chrome > Settings > Users & browsers > Homepage. From there, you can choose from three options:
Allow user to configure
Homepage is always the new tab page
Homepage is always the URL set below
For example, the Admin can set the Homepage of the Home button to always be the Happeo page for the root Organizational Unit 'Happeo Canteen.'