This article contains information on how to manage Channel Widgets.


Introduction
The Channel sidebar is a great place to add all the important documents, links, and calendar events to the discussion view. You can also quickly access your Channel drafts and notification settings from here.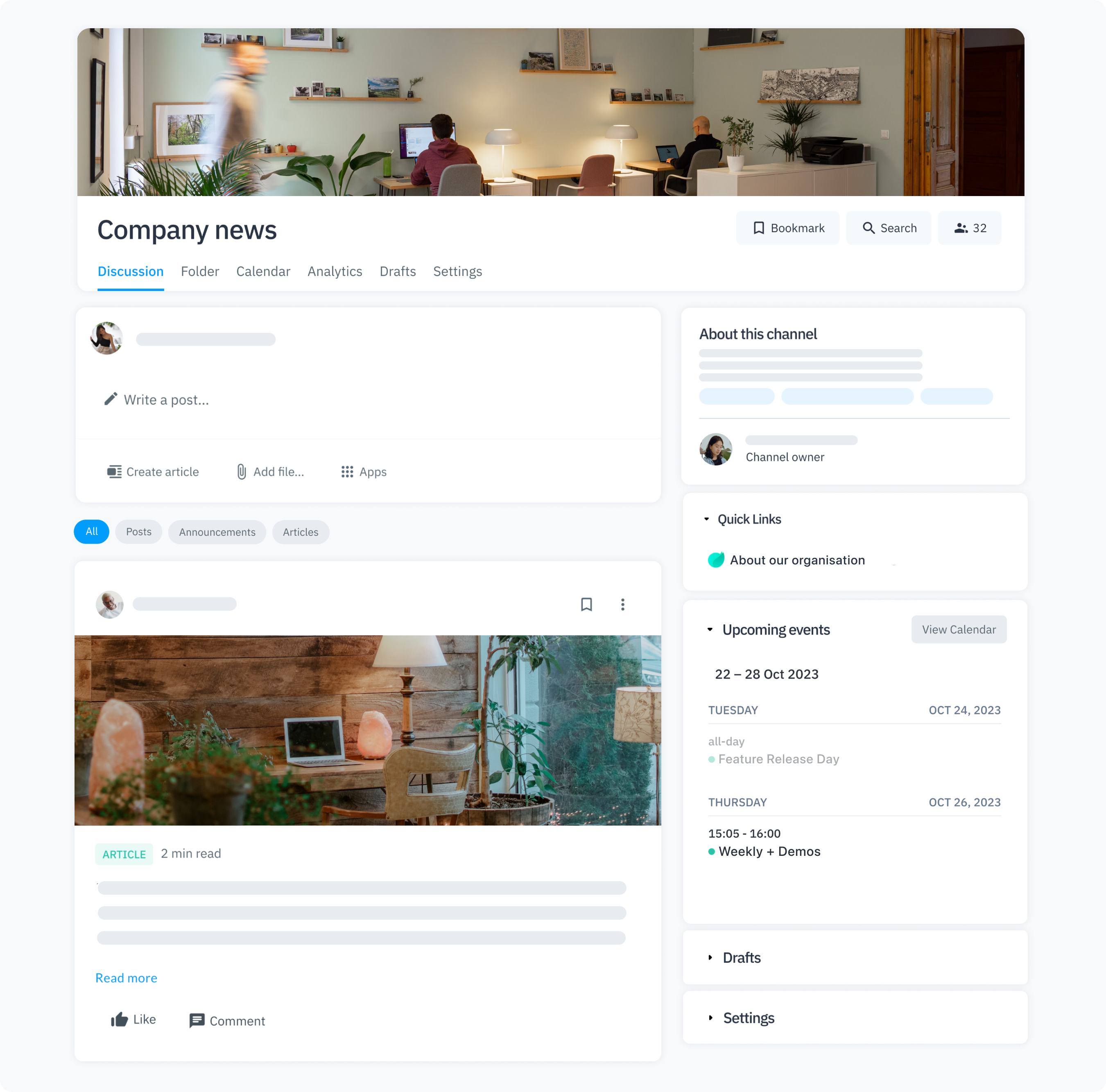 How to do it
To add and remove Widgets, you must be a Channel Owner or Editor. You can go to the Channel Settings from the Channel's navigation bar and scroll down to Sidebar Widgets. From there, toggle the Widgets you want to appear in the Channel.
To change their order, click on Reorder and drag them up or down.

Channel links
Channel links enable you to add quick links accessible from your Channel Sidebar.
When you add links, the website's image should automatically be attached to the link. If you wish to upload a custom image, you can do so by clicking Change icon.

Important files
When you toggle this option, you can click Add file to access files quickly from your Channel Sidebar.
Upcoming events
The Upcoming Events Widget shows events from your Channel Calendar.
The "Upcoming Events" feature will show events for the current week or, based on the number of events in the Channel Calendar, it may extend to cover the entire month.
Drafts
Drafts include all the Posts and Articles you've written but have yet to publish. To learn more about Channel drafts, please see this article.
To learn more about Channel drafts, please see this article.
Notification settings
A Channel's notification settings will always be visible in a Channel's sidebar. To learn more about Channel notification settings, please see this article.
FAQ: Upon the release of the new Channel experience (November 28th, 2023)
What if I don't see the new design?
You should be able to have the new Channels experience in your Happeo on the 28th of November around 9-11 pm CET / 3-5 am EST. If you don't see the update after that time, please refresh the page or manually refresh the cache. In the highly unlikely event that you don't see it until the end of the day, please contact your CSM.

Is anything going away?
Nothing is going away with the new Channels experience. There is, however, a change in location of the Widget settings. While you can access Notifications settings in the sidebar, just like before, the Widget settings are now accessible from the Settings tab of the Channel menu. Channel owners and editors can toggle the widgets they'd like to be visible in the Channel sidebar.