In this article, you can learn how to publish a Channel draft.


Save a draft of a Post
Happeo offers the option to save Posts as drafts that are only visible to you and the person you post on behalf of.
Save draft will save the Post draft in My Drafts, found in the Channel Sidebar
Share draft will publish the Post draft in Channel Drafts, also found in the Channel Sidebar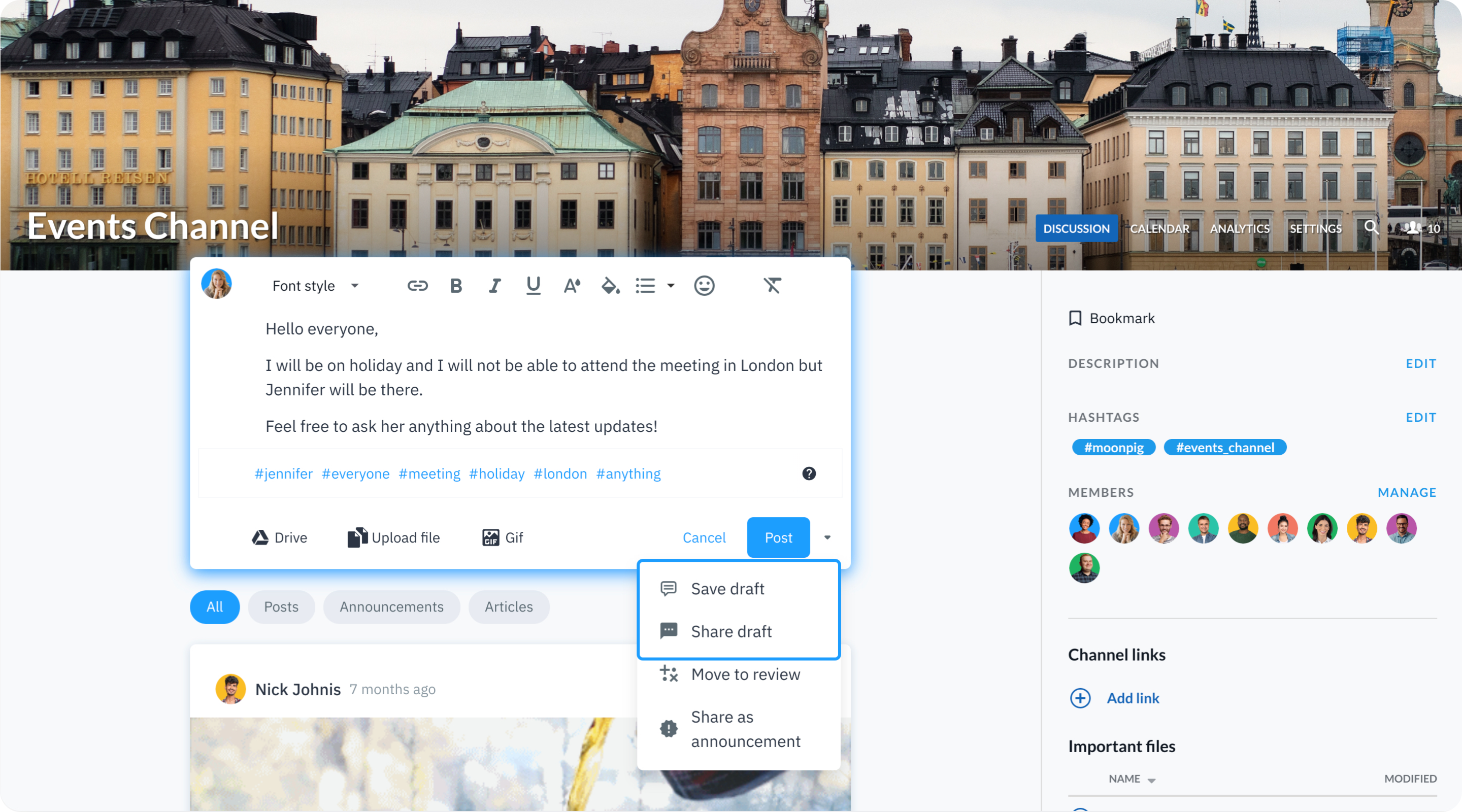 Save a draft Article
Articles are saved as drafts automatically once you begin typing in the title, lead text, or text body field. Just like Posts, Article drafts will be saved into My drafts or Channel drafts.
To save a draft into Channel drafts, you will need to share the draft by:
Clicking the downwards pointing arrow next to Publish
Edit and delete drafts
To edit a draft, you can:
Click My drafts or Channel drafts
Select Edit
Once you're done, you can click on Update draft
To delete a draft, you can:
Click My drafts or Channel draft
Select Delete next to the draft you wish to remove
Publish a Post draft
To publish a Post draft in My draft you will need to:
Click My drafts in the drafts section of the Channel Sidebar
Then, click Edit
Click Post options
Select Publish
To publish a post draft in Channel drafts, you can:
Click Channel drafts in the drafts section of the Channel Sidebar
Click the three dots in the top right corner of the Post draft
Select Publish
Publish an Article draft
To publish an Article draft in My draft you will need to:
Click My drafts in the drafts section of the Channel Sidebar
Then, click Edit
Click Publish
To publish an Article draft in Channel drafts, you can:
Click Channel drafts in the drafts section of the Channel Sidebar
Click the three dots in the top right corner of the post draft
Select Publish