In this article, you can learn how to use Google Analytics to track Happeo usage
How to add Google Analytics to your Happeo environment
Administrators can integrate Google Analytics into Happeo. This gives the possibility to track Happeo usage and actions. To add Google Analytics, administrators can open Happeo's Analytics by clicking on:
Their user icon at the top right corner within your Happeo environment
Analytics
Google Analytics (on the bottom of the side-bar)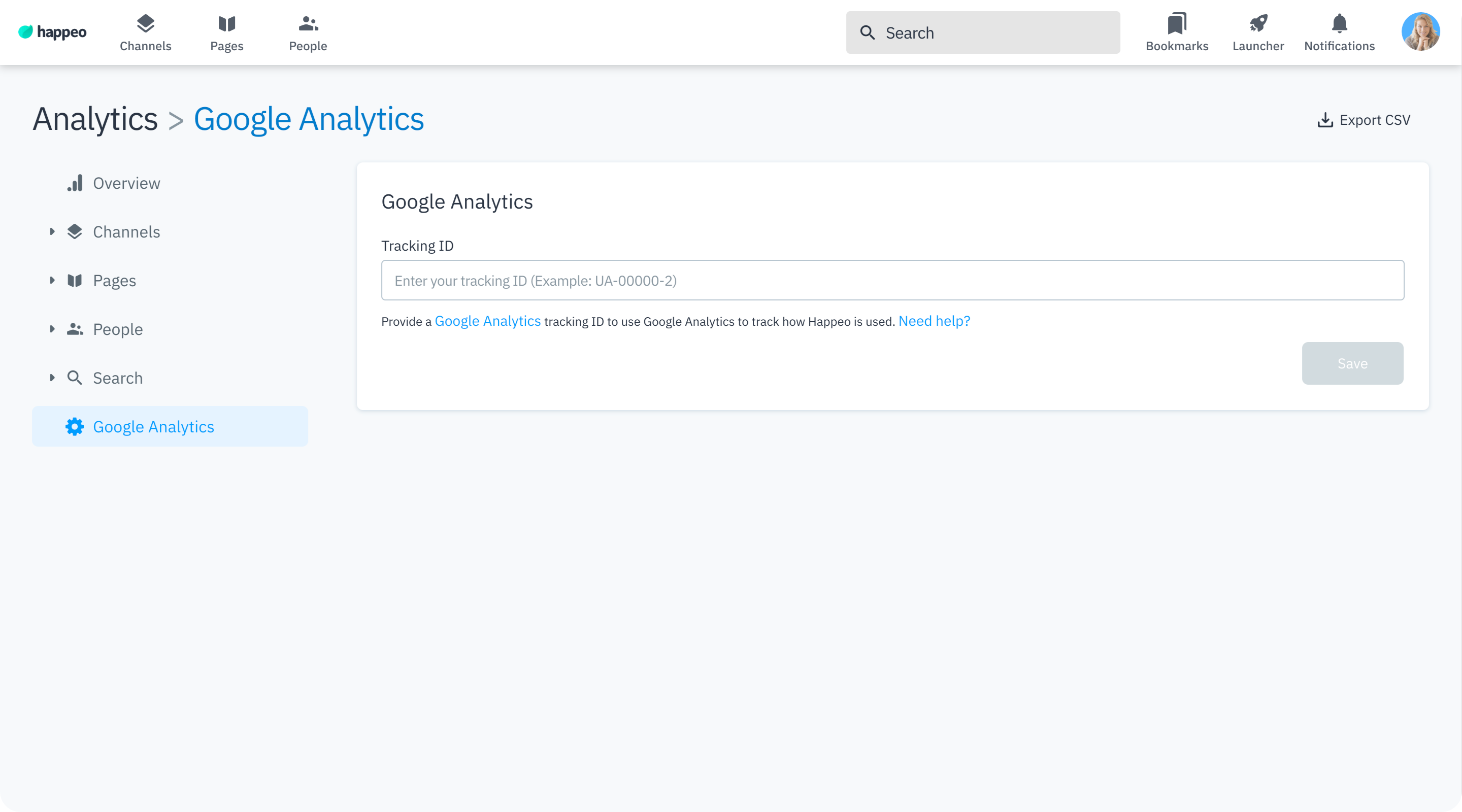 Admins can then input the Google Analytics tracking code there.
Data that is sent to Google Analytics:
Visited pages
Actions (e.g. the number of times users have opened the launcher)
Labels for actions
Labels for actions are ways for customers to identify and create a better understanding of how Happeo is used. To enable this, Happeo provides the following labels where applicable:
Launcher item URL
Post ID
Comment ID
Channel ID
User ID
Important
Happeo does not send any identifiable information to Google Analytics. Everything is based on Happeo IDs (post, channel, comment, user). To combine analytics information with actual names of channels or users, Administrators need to get this information from the Happeo Admin panel.
It is also crucial to note that this integration only works with Universal Analytics (the previous generation of analytics). This was the default property type for websites prior to October 14, 2020. Therefore, the code should always look as follows "UA-000000-0" and not start with a "G".
Why is there a discrepancy between Google Analytics and Happeo Advanced Analytics?
One of the reasons why there is this discrepancy is that Google Analytics works with data sampling (picking the usage of about 10% of users and multiplying by the number of users present in the domain) while Happeo's Advanced Analytics is based on the actual usage of the platform as they come from Happeo's servers and not from a browser.
Moreover, Google Analytics is blocked by many browsers, meaning that Happeo can only get around 20% of the Happeo Analytics to Google Analytics.
Google Analytics setup
In Google Analytics when configuring a new account for Happeo, you can click on "Website" and the URL should be "app.happeo.com".
For more information & best practice on how to use Google Analytics, click here.