In this article, you can learn what end-user feedback is and its importance to Happeo.

The best feedback often comes from the end users. That's why we are eager to listen to what you have to say!
By allowing us to ask for feedback, we may present you with surveys periodically and ask for feedback on different features as a means to improve Happeo.
An example of end-user feedback is the Net Promoter Score -survey, or NPS for short.
How does it work?
As mentioned above, we may show you an NPS survey on a periodic basis.
When included in the survey group, you will see a popup at the bottom of your screen asking for your feedback.
The survey is short and consists of two questions. The first is a rating from 0 to 10 and the second is an open-ended feedback question.
Is this optional?
Yes, within the Admin panel > Security > Privacy policy & user feedback, you, a platform admin, will be able to turn off end-user feedback. This will mean that the environment's end-users will not be surveyed.
To turn off end-user feedback, uncheck the box Allow end-user feedback.
By doing this, you will reduce the direct product feedback that we receive from your users. We will also not be able to share user feedback to help you improve your environment.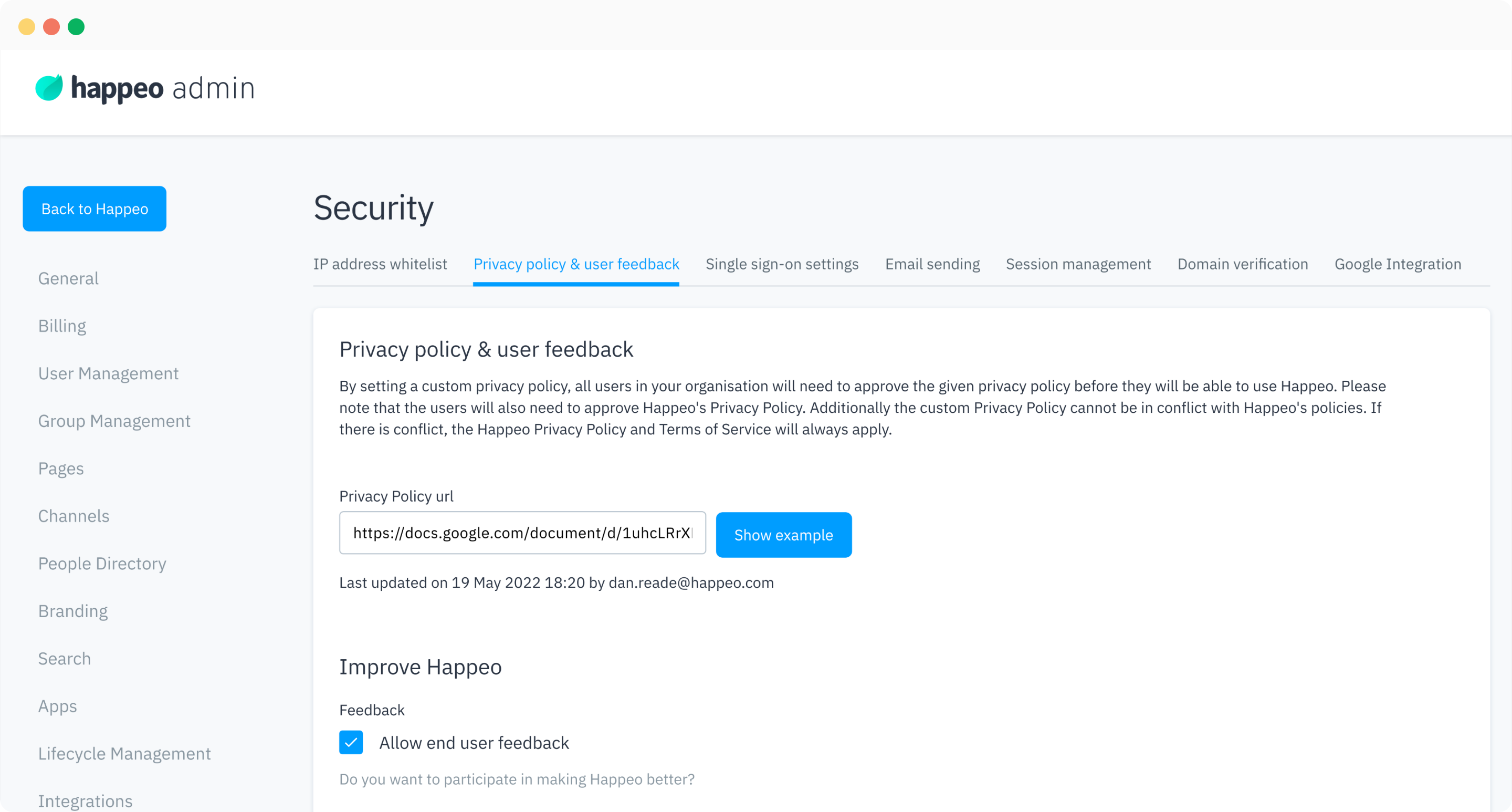 Q&A
What is the frequency?
The survey is conducted every 60 days, with a minimum gap of 60 days after using Happeo for the first time.
What users are being surveyed?
Both admins and regular users are being surveyed.
How often is each user being surveyed?
All users receive a popup survey approximately once every 60 days.
Can the survey be branded in a way that it is evident it is coming from Happeo?
The survey does not include any branding. However, it is possible to manage separate NPS surveys per customer. For more details, please get in touch with your Customer Success Manager.
Is it possible to share the feedback with customers?
Yes, it is possible to have the feedback shared with customers (you). For more information, please contact your Customer Success Manager.