Exploring Search Options and Functionality in Happeo
This article is about the various search options available in Happeo. It explains the different search methods, including Preview Search, Full Search, Page / Channel search, and Small Search.
Additionally, the article highlights the capability of Happeo's Search to extend beyond the platform and incorporate results from cloud storage and file-sharing platforms. It also mentions the ability for Admins to prioritize Search Results by content type and the availability of Advanced Analytics to gain insights into search usage and top search terms.
Happeo's search option is the superpower that makes your new intranet super-efficient and increases productivity by serving up the resources users need within seconds. The main Search Bar can be found at the top of the page on the Happeo site.
Different search options
In Happeo there are multiple ways to search:
Preview Search shows results as you begin to type into the Search Bar giving you quick access to popular results
Full Search provides full Search Results and filters once you have pressed the Enter key. After filtering results by content type, you are presented with even more granular filter options to find just what you need
Page / Channel Search appears as a magnifier icon on top of a Channel or Page you are visiting and helps you find information within that Page or Channel
Small Search is the search field that appears when you click the Pages or Channels menu on the top left in the Happeo Navigation Bar. These help you to find a specific Page or Channel

Search across platforms and connectors

With multiple layers of search, Happeo's Search finds information within the platform but also in your cloud storage and file-sharing platform. You can even purchase additional Search Connectors to extend the Search to show results from Box, Confluence, Jira, Slack, or Zendesk.
Prioritize Search Results by content type

Admins can prioritize the order of search results by content type. Depending on which content types are the most important for your organization, you can prioritize the order in which they are presented. Content types include:
Pages

Channels

Files

Emails

Calendar items

People

Posts

Etc.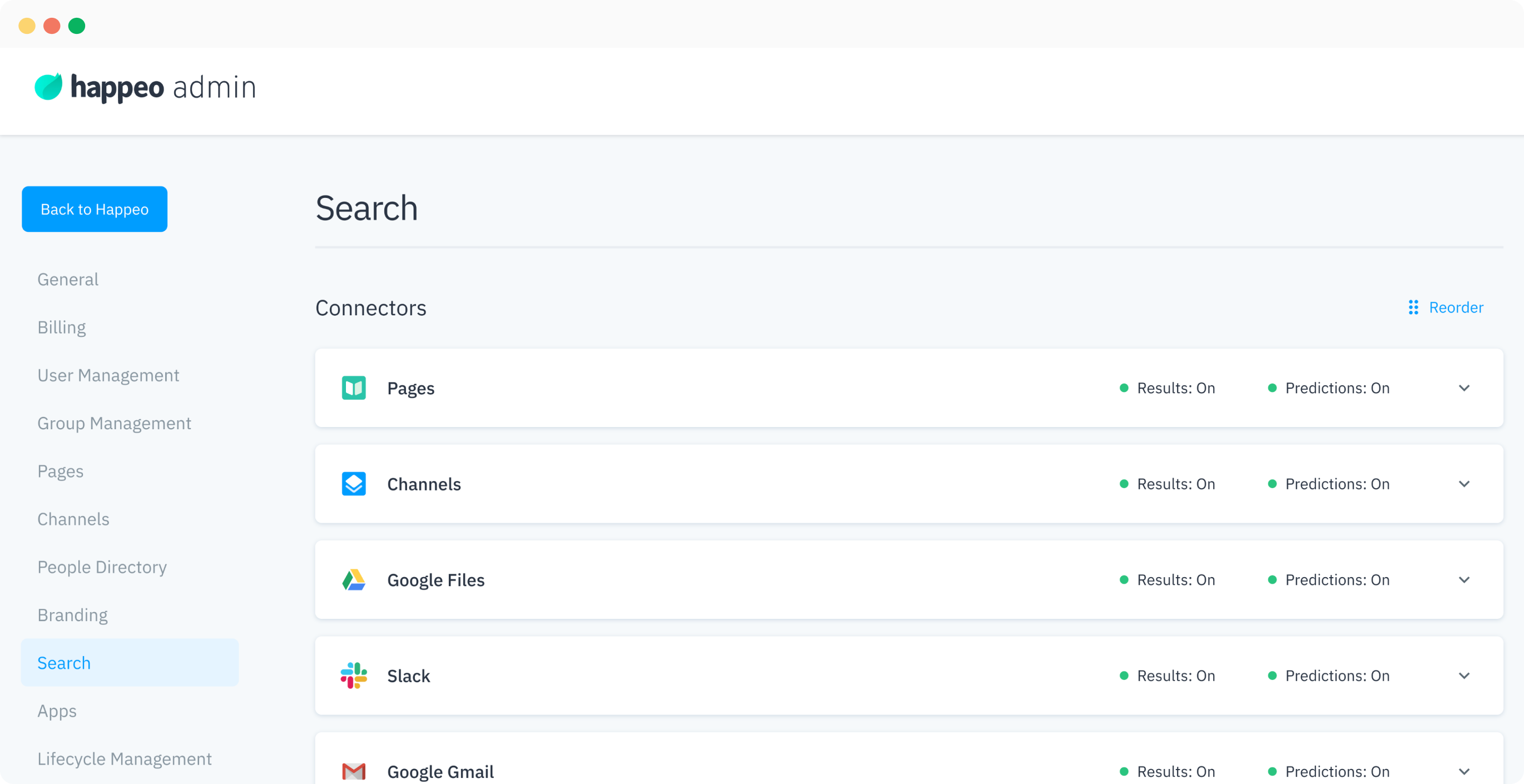 Bonus points: Search usage and terms in Advanced Analytics

With the Advanced Analytics add-on in Happeo, you get more detailed usage information about your intranet. Examples of search data include:
Unique search users

Average time to find results

Average time on opened results

Success percentage

Failure percentage

Top search terms

For more information about Search in Happeo, check out the following articles: