Here, you can find information about resource calendars and how to add them to your Channels and Pages.
What is a Resource Calendar?
In addition to scheduling meetings in Google Calendar, Google Workspace users in your organization can manage resources that people share. The most common example of a resource is a meeting room. Other examples include projectors, company fleet cars, guest offices, recreation equipment or any other resource people might schedule a time to use.
How to create a Resource Calendar in Google Workspace
As a Google Workspace Admin, you can:
Go to the Google Workspace Admin console
Click on the Menu icon
Select Directory
And click on Buildings and resources
In the Resource management section, click on Open
Click on the Add button (it's a plus sign)
Enter the resource information. You can choose between the types:

Conference room: Resources used for meetings or conferences that can be as small as a phone room
Other: Resources that aren't used for meetings. For example, a bicycle or company car

Click on Add Resources
For more information, please see this selection of Google articles in relation to Resource Calendars.
How to add a Resource Calendar
There are two different places where you can use Calendars within Happeo.
Calendar Page Widgets
Channel Calendar
Resource Calendars can be added to Channel Calendars by going to the:
Calendar tab in the Channel Navigation
On the right-hand side under Users you will see the Resource Calendars dropdown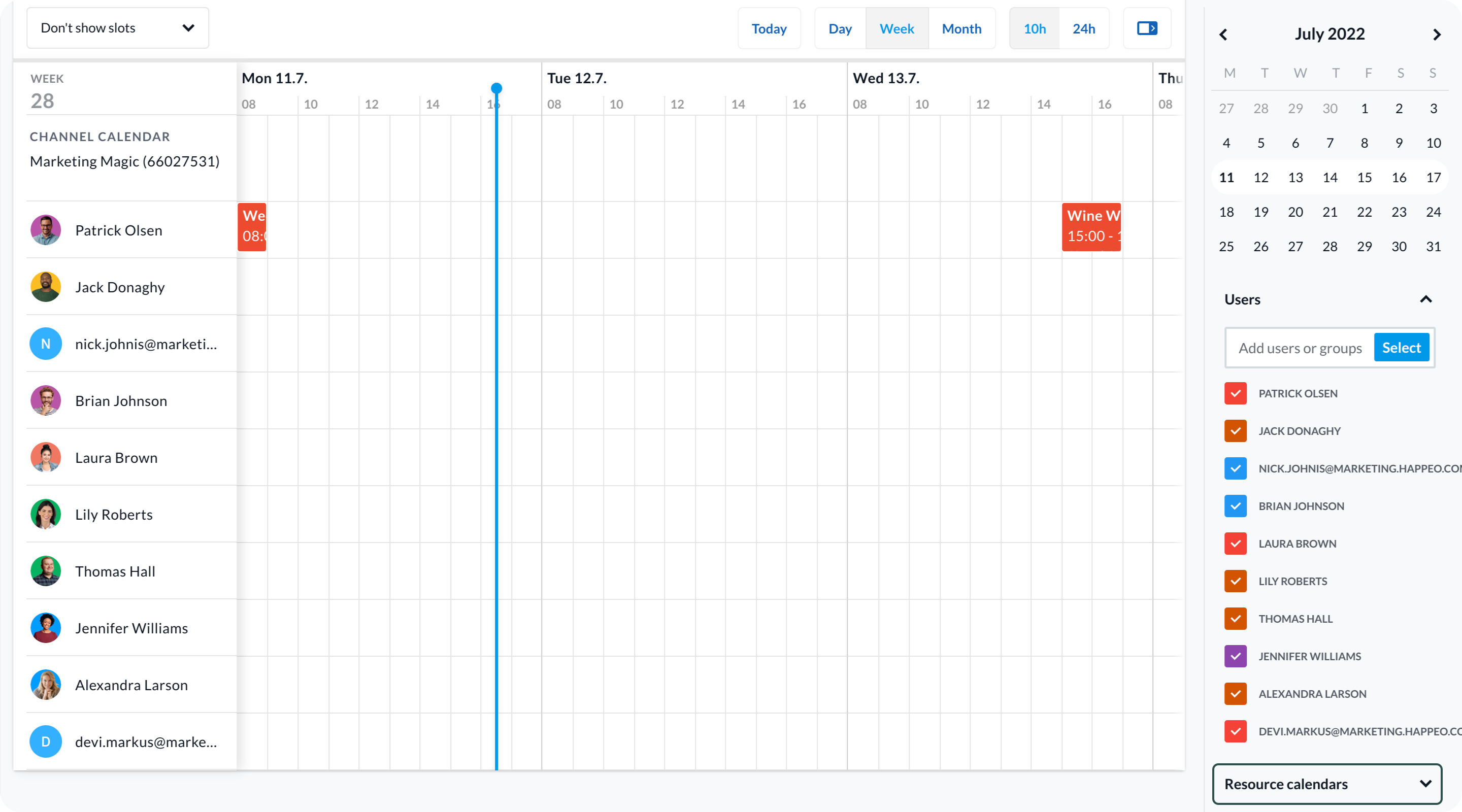 Calendar Page Widget
It is possible to add a Resource Calendar to both a Schedule and Month Page Widget. To do this you will first have to add one of the Calendar Widgets to the Section on your Page.
Then you will need to go to your Google Calendar and find the Resource Calendar that you would like to include on the Page. When you have found the correct Resource Calendar you will need to go into the calendar settings and then find the Calendar ID and copy it.
You can then paste this Calendar ID into your Calendar Page Widget by clicking on By email.