In this article, you can read about what Channels are and their use cases, and how to create and manage them.

What is a Channel?
A Channel is a social space where you can communicate and collaborate with others. This is done through posting, commenting, and liking as well as sharing and collaborating on documents.
What are the use cases for Channels?
The three main use cases are company news, collaboration, and social.
Company news
This use case is focused on top-down communication via the internal comms team or management. Setting up primary and secondary news Channels allows you to ensure that news is seen that is relevant for each employee.
Collaboration
Collaboration Channels should be created by the employees and grow organically. They could be used for a specific project or as a place for a group of people to collaborate. These types of Channels will normally come from a specific need or problem. One good use case that we recommend is a Happeo implementation project Channel. This will allow you to collect questions and answers during the setup and transform the Channel into a Q&A Channel after launch.
Social
Social Channels should be aimed at driving social interaction within your business. They should be a combination of central and employee creation. These Channels can be both business-related and completely social. Use cases include office, department, social club, and recognition Channels.
How to create a Channel
The ability to create a Channel depends on if the Happeo Admin has given permission through the Admin Settings. We recommend that Admins allow all users the ability to create Channels. You can find details on how to set those permissions in this article under "Permission management".
To create a Channel, you will need to open the Channel Navigation. From there, you can create a new Channel by clicking on the + icon on the top right.
To create a Channel, you will only need to choose a name and give a Channel description (optional: tags).
Fine-tuning and managing Channels
After creating a Channel you can fine-tune the Channel to personalize it and ensure that it fits your use case. You can set the following:
Channel color
The color will be displayed on the left of the Channel name within the Channels menu. This will allow you to color code Channels that are related.
Header image
The header image will be displayed at the top of the Channel. Please see the recommended image specifications.
Manage Channel members
Here you will be able to change sharing options for users and groups in the Channel.
Happeo tools
Activate Channel tools such as discussion, files, calendar, and your video calling provider.
Discussion: Enabling this option will allow you and, Channel editors and members to create posts and articles
Files: Connect an existing team drive or folder or a new folder to the Channel for users to collaborate on. Any files shared in the Channel will be saved to this folder
Calendar: Add an existing calendar to the Channel or create a new one based on the Channel Participants
Google Meet: Allow Channel members to invite each other into Google Meets directly from the Channel
Microsoft Teams: Allow Channel members to invite each other into Microsoft Teams directly from the Channel
Only invited users: By choosing this option, only users who have been invited to join the Channel can find the Channel within the Channel discovery
Anyone in my organization can ask to join: Visible in discovery, anyone can ask to join from the Channel discovery
Anyone in my organization can join: Visible in discovery, anyone can join automatically and also view the Channel contents without joining
Here, you can adjust the level of participation by restricting commenting and posting.
Anyone can post and comment: All Channel members have the ability to create posts, articles, and comment on either of the two types of content
Anyone can post and comment, but posting an announcement is restricted to Channel editors: This option entails the same as above, however, announcement posts can only be made by Channel editors and the Channel owner
Anyone can comment, but posting is restricted to channel editors: All Channel members can comment on posts and articles, however, they are unable to create either posts or articles as this feature is only available to Channel editors and the Channel owner
Archiving a Channel
If you wish to know how to archive a Channel, please see this article.
Archiving a Channel will remove it from the Happeo user interface and can only be undone by a Happeo Admin. If you, an Admin, wish to unarchive a Channel, you can view this article for a step-by-step guide through the process.
Channel member roles
Owner
The user who has created the Channel (the Owner) has the ability to add users and user groups. The Owner also has the ability to assign editors.
The Owner gets an email notification when a user requests to join the Channel. The Owner can also assign user permissions and adjust additional settings such as:
Basic settings (name, description, hashtags, etc.)
Tools (discussion, files, calendar, etc.)
Integrations (Slack, Google Chat, etc.)
Discover (who has the ability to discover the Channel)
Restrictions (posting and commenting restrictions)
When the Channel has posting and commenting restrictions turned off, the Owner can still post and comment.
Moreover, the Owner can create post drafts, collaborate with the Channel editors before posting, and post Announcements to the Channel. You can read more about Channels in our article or our document called Channel Owner Guide.
Note: Channel Owners can be changed by the Admin. The Admin can navigate to the:
Channel you wish to change the Owner of
(Skip if the user is already a Channel Member): Add the user you wish to make into the Channel Owner
Click the user's Channel permission(listed under their name)

i.e. Editor or Participant

Select Owner
Editor
Editors are able to add users / groups, assign permissions, and set Channel settings.
When posting and commenting restrictions are turned on, the Editor can still post and comment. Editors also have the ability to create post drafts and collaborate with other Editors before posting and also post Announcement Posts to the Channel.
Participant
Participants are able to post and comment on the Channel as long as the posting and commenting restrictions are set appropriately.
These restrictions can be altered by navigating to the:
Channel settings
Scroll down to Restrictions
The types of posting and commenting restrictions include:
Anyone can post and comment
Anyone can post and comment, but posting an announcement is restricted to channel editors
Anyone can comment, but posting is restricted to channel editors
Only channel editors can comment and post
Channel tools, adding members, and posting
Channel overview
The Channel page is made up of three sections:
Channel Feed
Channel Sidebar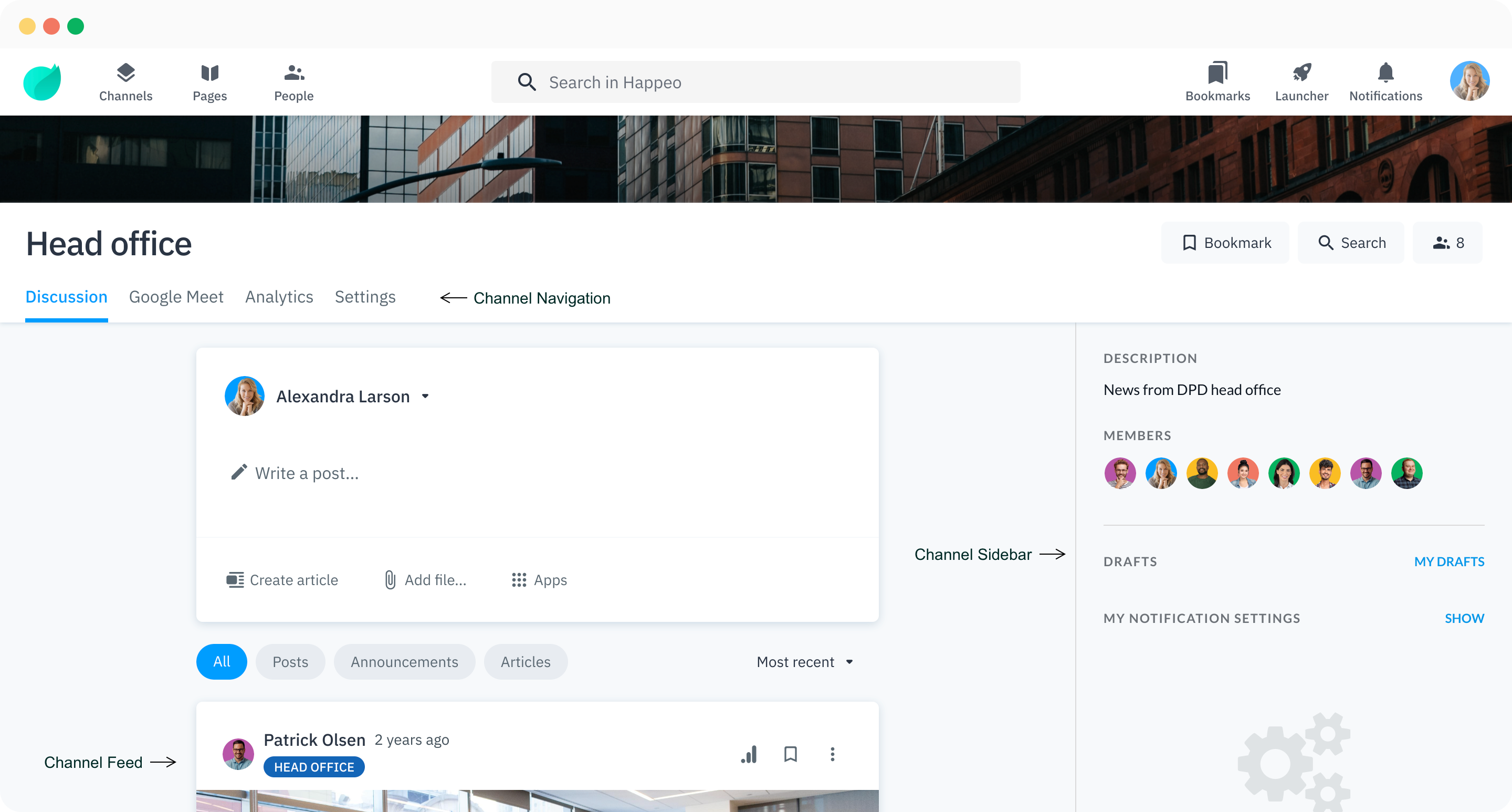 Adding members
After adjusting the Channel settings to your liking, you can add Channel members if you wish. This can be done by selecting the people option next to the Channel settings in the Channel menu or through the Channel's settings under Basic settings.
You can add either specific users or groups. When users or groups have been added, they will be notified that they have been added to the Channel, which will show in their Channel overview.

Related article: Access Permissions for Channel Folders, Files, and Calendars.
Customizing the Channel Sidebar
The Channel Sidebar is visible to all Channel members and can be customized with different Channel widgets such as:
Channel links: These links act as quick links for Channel members where they can link Happeo Pages, Drive, and external content
Upcoming Events: This widget will show any upcoming events on the Channel calendar
Important Files: This allows you to link Drive folders or files that are important for the Channel members
Using the Channel Feed
In the Channel Feed, you are able to post, comment, like, share documents, and tag people, similar to other social platforms.