You can find information about the Document Widget and its use cases here.


What does it do?
The Document Widget allows you to embed any Drive, OneDrive, or SharePoint document onto a Page. Moreover, it allows users to either read the documents or edit them directly within Happeo.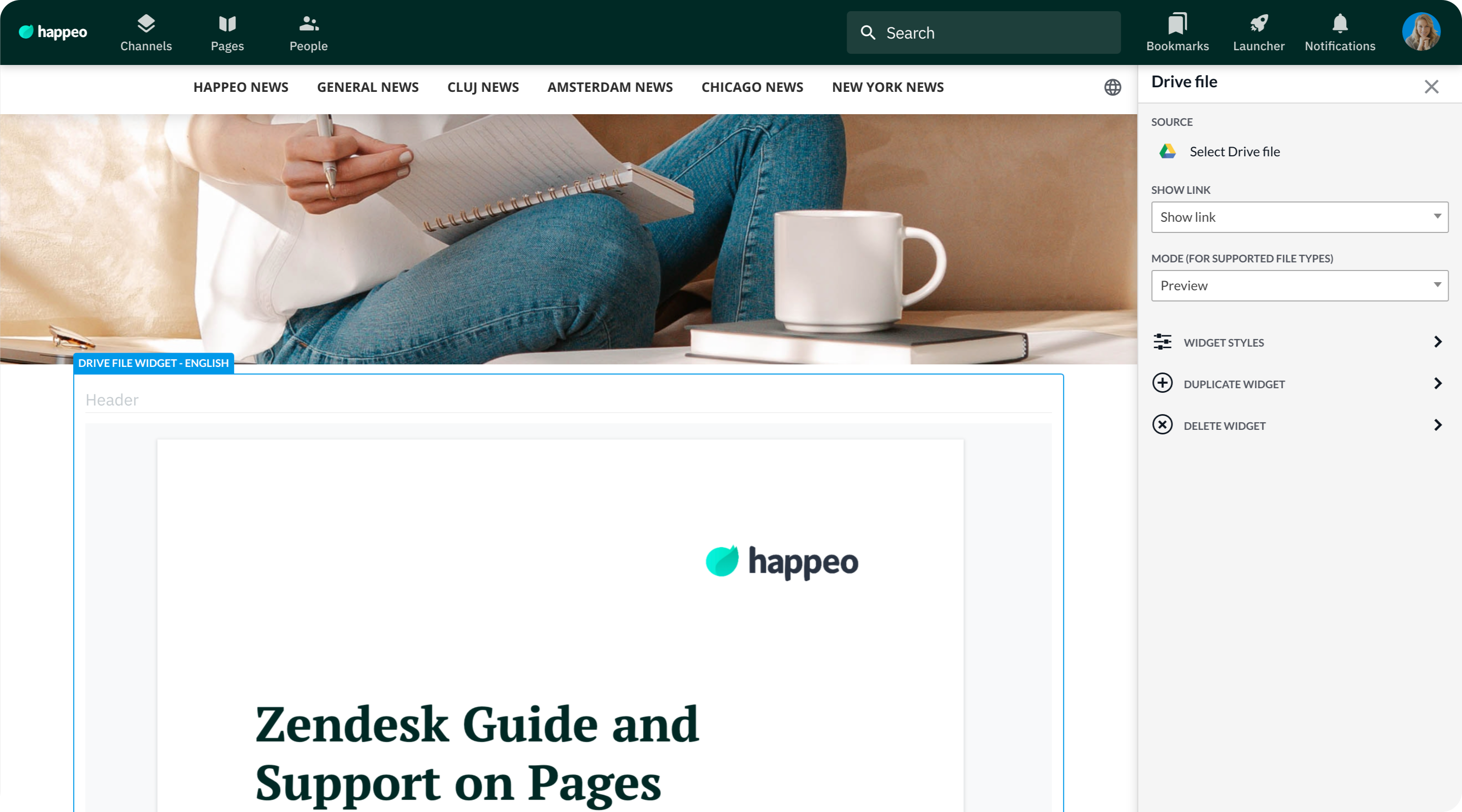 Document widget options
Select Drive or OneDrive file

: Opens a Drive, OneDrive, or SharePoint window that allows you to select any file that is stored in Drive, OneDrive, or SharePoint. This includes:




Google documents
Google sheets
Google slides

When embedding Google slides, you can click on the three dots next to the slide navigation to:

Open speaker notes
Turn on/off the laser pointer
Enter full-screen
Adjust the auto-play options
And in more: download as PDF, download as PTTX, print the slide deck, open in the editor mode (in Google slides), view keyboard shortcuts, report a problem, and register abuse/copyright

Google forms
Microsoft Word docs
Microsoft Visios
Microsoft PowerPoints
Etc.

Show link: Choose to show or hide a link to open the file in another window
Mode: Make document preview only or editable directly within Happeo
Note: It is not possible to embed any Google Shortcuts, regardless if they are documents, sheets, or slides. Embedding a Google Shortcut will lead to a 403 Error.
Troubleshooting
Why is my Google Form not visible to other users?
If you're wondering why your Google Form is not visible to other users, it is most likely because the permissions are not set to allow others to view it. To fix this, you can change the permissions to one of the following options:
Everybody in your organization can see

Anybody with this link
This will make the form accessible to the intended audience.
For more information on sharing Google Forms, please see this link.
However, for trusted organizations, the troubleshooting steps mentioned above will not be effective. In such cases, you should follow these steps:
Go to the

Form settings

Click on

Responses

Toggle

off

the

sign-in option
By doing this, the form should become visible to trusted organizations' users.
By adjusting the permissions or sign-in toggle, you can ensure that your Google Form is accessible to the right audience, depending on your specific needs.
I'm unable to see documents in the Widget

If you're facing difficulties viewing documents within the Document Widget, please consider the following steps:
Check your Google Chrome profiles

: Make sure you're logged into a single Google Chrome profile. Ensure that you're using the profile with the necessary document access

Review browser extensions

: Examining your browser extensions's a good idea. Temporarily disable each extension individually to identify if any of them are causing conflicts with the Document Widget's functionality

Third-party cookies

: Verify whether third-party cookies are enabled in your browser settings. Disabling these cookies might resolve the viewing issue. Test this by turning off third-party cookies and seeing if the problem persists
If you've tried these troubleshooting steps and the issue remains unresolved, we recommend contacting our support team for further assistance.